Illustrate the Core Values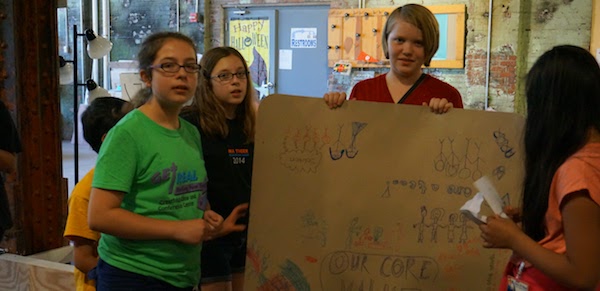 Objectives:
Learn the FIRST LEGO League Core Values
Materials:
Each of the Core Values listed on a strip of paper
Large paper/poster
Markers/Crayons
**Fold all the Core Values in half so that the team cannot read them. Leave the paper and markers on a table.
Instructions to Team: Pick one Core Value at random and illustrate it with anything that shows how your team exhibits this Core Value. You will have 5 minutes.
Notes: In this version, the team does not get to choose their favorite Core Value. This is so that they will get familiar with all of them. Have the team present their poster at the end of five minutes.
FIRST LEGO League Core Values (until 2017)
We are a team.
We do the work to find solutions with guidance from our coaches and mentors.
We know our coaches and mentors don't have all the answers; we learn together.
We honor the spirit of friendly competition.
What we discover is more important than what we win.
We share our experiences with others.
We display Gracious Professionalism® and Coopertition® in everything we do.
We have FUN!
FIRST LEGO League Core Values (from 2018 onwards)
We express the FIRST philosophies of Gracious Professionalism and Coopertition through our Core Values:
Discovery: We explore new skills and ideas.
Innovation: We use creativity and persistence to solve problems.
Impact: We apply what we learn to improve our world.
Inclusion: We respect each other and embrace our differences.
Teamwork: We are stronger when we work together.
Fun: We enjoy and celebrate what we do!