Achievement and Celebration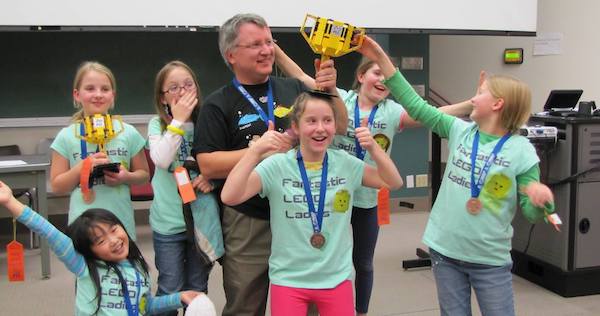 The Fantastic LEGO Ladies formed in 2014 and in our first year were fortunate to compete in a brand-new region filled with rookie teams. At our regional tournament, the team won the robot game with a score of only 125 points and took the overall trophy. The team accepted an invitation to the FLL Razorback invitational and it was there that we saw the huge gulf between our robot performance and the performance of champion-level teams. (This is where we met the 2015 FLL Razorback Invitation Champions: Not the Droids You Are Looking For)
Achievement should not be defined by points
High achievement always takes place in the framework of high expectation" – Charles Kettering
Coaches and parents have a lot to do with defining Achievement for the team. Our kids want to please us and they look to our expectations to help define their perception of their own performance. In FLL our natural temptation is to define achievement in terms of the robot game points. But the FLL Core Values give us an opportunity to set different expectations. The Droids have scored a lot of points and won a number of tournaments, but an argument could easily be made that their greatest achievement has been the impact they've made on others through networking and EV3Lessons.com. When preparing your team for the season or for a tournament think about what expectations you can set for your kids outside of the points. Experimenting with new techniques, quality documentation, networking with other teams, helping advise a rookie team, and many other goals can be far more rewarding achievements.
Defining "Success" Independent of "Winning"
There have been plenty of tears when our robot has failed to do "what it should have done". Our second year, the team was pretty bummed when we didn't win our tournament. In fact, this year our robot performance was so bad we weren't even eligible to place in the overall awards. Still, in the robot game we had a very successful season. Winning is about comparing oneself to others. Achievement is about comparing oneself to one's former self. This year's season was successful because of the team's technical growth. The team built a far better chassis than last year – more compact, more robust. Our tools were far better designed and far more sophisticated than the previous year. We tried sensors for the first time, used them extensively, and used them effectively. We won the Robot Design trophy at our tournament and frankly I'm more proud of that than anything we accomplished the previous year. This year's robot really was a success even if it didn't score "enough" points.
Winning is about comparing oneself to others. Achievement is about comparing oneself to one's former self.
Celebrating what we discovered
Each year we close the season with a retrospective review. We lead the girls to talk about how they felt about their experience and performance during the season. We review the scoring sheets from the tournament(s). We record aspirations for the following season, including improvements we would like to make. There can be some hard conversations at times. This year the coaches put the focus on celebrating what we discovered by preparing and reading to the kids all of the robot techniques the team had discovered and used during the season – even little stuff that wasn't a "big deal" – and we celebrated a list that was 30 items long! Everyone was surprised, happy, proud, energized, and inspired. Perhaps this year we should have a "Discovery Board" that we can celebrate adding to throughout the year…hmm, gotta write that one down somewhere.
Why celebration is important
I am not arguing that your team should have an "everyone gets a trophy" culture. I am saying that celebration helps us orient our attitude to focus on the achievements more than the failures. It helps give us the confidence to carry on with hope. It gives us new energy to build new aspirations and set more challenging expectations. Let's be honest, it's fun. And that's my team's favorite Core Value.
Optimism is the faith that leads to achievement. Nothing can be done without hope and confidence – Helen Keller