Segue From FLL to FRC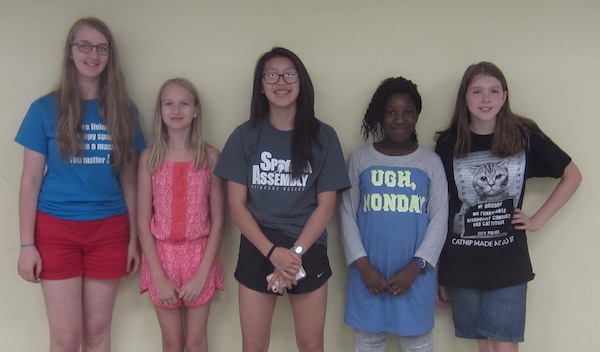 "Combining the excitement of sport with the rigors of science and technology, FIRST Robotics Competition is the ultimate Sport for the Mind(TM), where imagination and innovation come together! By combining the excitement of sport and beauty of art with the rigors of science and technology, teams of high school students (ages 14 - 18/grades 9 - 12) are challenged to design a team 'brand,' hone teamwork skills, and build and program robots to perform tasks against a field of competitors. Participants call it the 'hardest fun you'll ever have.'"
The first time we saw a FIRST Robotics Competition (FRC) robot up close and personal was at the World Championship in St. Louis, April 2017. It was love at first sight. The robots' speed and finesse was impressive. FRC pits were abuzz with focused team members wearing Nascar-type shirts using all sorts of power tools. And the fast-paced, spontaneous nature of the Steamworks game had us mesmerized. Making the segue from FLL to FRC was a natural next step. The really cool thing about FRC is all skill levels are welcome and needed, technical and non-technical. If you are thinking about transitioning from FLL to FRC, here's what you need to know and consider.
When transitioning from FLL to FRC, the first year will be the toughest. You may use some of the same strategies you used in FLL, but you will have to learn about a new program, challenge, building system and game aspects. Programming changes from visual programming to text programming. By no means is our list exhaustive. Consider interviewing FRC teams at a nearby FRC Regional Tournament to know what may be ahead and how to prepare. It's normal to sometimes feel overwhelmed, frustrated and even lost. Coopertition is the essence of FIRST. As you learn and grow, be sure to glean knowledge and insights from other teams. Know that with each year of experience things will make more sense and you will be better equipped to handle the challenges that come your way.
FRC teams operate like a business. Team members are expected to conduct themselves like professionals, knowledgeable in aspects of their team. Presentations are formal like business proposals. FRC tournaments are competitive, fast-paced and fun! Retain your FLL Core Values and you'll have a great season!
Required Skills
All students welcome to participate in FRC, with or without special skills. Both technical and non-tecnical skills are needed. Whatever you are good at – there is a place for you. Whatever you are willing to learn – there is a place for you.
Possible sub-teams include:
Designing/digital prototyping
Strategists
Building
Programming
Electronics
Metalworking
Scouting
Graphic design
Website creation
Aptitude for science, technology, engineering, math, physics
Knack for problem-solving
Appreciation for power tools
Public speaking/presenting
Photography/videography
Business
Marketing
Creative writing
Social media
Event planning
Fundraising
Branding
Project managers
Cheerleaders and even Glitter Captains (a.k.a. Team spirit)
'This is the only sport where if you show up, you can play.'
Committment
Team members complete from January through April. Mentors and adult volunteers lend their time and talent to provide guidance to the team. They meet several times per week. There is a six-week build time from early January through mid-February. After this, teams bag and tag the robot and do not touch it again until the first competition. Each season culminates with district and regional events where qualifying teams compete for awards and a spot at the FIRST Championship in Houston, TX or Detroit, MI. Seasoned teams actually meet throughout the school year. They use the summer for fundraising and outreach. There are also several off-season optional competitions.
Tips:
Be prepared to spend some nights and weekends helping your team.
You, your family, and your schedule will determine how much time you can devote
Like any school activity, the more time you invest, the better you will become.
Team Basics
A team is composed of ten or more high school-aged students willing to put in time to do any job the team needs to succeed. There are lots of important jobs available for all skill levels and interests. You will need to find a suitable meeting place that includes adequate space to design and build an industrial-sized robot (about 150 lbs.). You will need access to a variety of machine shop power tools, a standard kit of parts and a common set of rules issued by FIRST. Many teams fabricate their own parts.
Two or more adult Mentors are needed for each team, with both technical and non-technical expertise. They must be willing and motivated to coach the team through the build and competition season, and beyond. Community sponsors will be needed to help fund your efforts and provide other support. You will also need to have the desire to learn, explore, strategize, build camaraderie, share ideas and talents, make new friends, be accepted, and HAVE FUN!
Time Frame
FIRST Robotics Competition teams register in the fall. However, the official season begins when the season's Challenge is announced at a Kickoff ceremony the first Saturday in January. Teams are given six weeks to create their robot. District and Regional competition events start in late February and continue through April. Teams that qualify are invited to FIRST Championship one of the last two weeks of April. Off-season events to strategize, hone skills, learn new technology, meet other teams, and have fun are common.
Cost
The cost varies from team to team and region to region depending on what level of participation the team chooses. The annual fees for team registration, a robot kit of parts, and event participation are $5,000 - $6,000. Additional costs for travel, food, team shirts and other optional items will vary. FIRST offers many fundraising opportunities and teams are encouraged to create their own. Grants are also available, as well as sponsorships provided locally, regionally and nationally by many corporations.