Weekly Guide: Preseason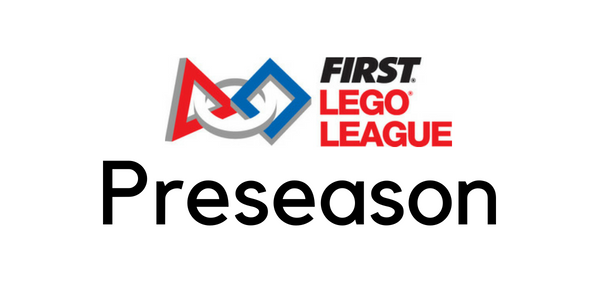 Many years ago, Norm Kerman, former FIRST LEGO League Tournament Director and FIRST-supporter in Western PA developed a great series of newsletters for teams. When I started out as a rookie coach, I found these immensely helpful for keeping my team on task (more-or-less). Inspired by Norm's orignal work, our plan is to create an updated weekly guide. This article is the first in a series. Each week, we will have some advice for where you should be with regards to the Robot, Project and Core Values. Every team is different and you should feel free to adjust the timelines and activities as necessary.
Week 0: The Preseason
Welcome to the preseason of FIRST LEGO League. Typically, the theme for the season is announced in late November of the previous calendar year; team registration begins in May of the competition challenge year; and the challenge details are released in August. While starting before the challenge release is not required, taking advantage of the time between seasons can make your team more productive and reduce the stress associated with the season. Overall, the time can be used to learn to program, get a jumpstart on research ideas, and become a better team.
A good place to start is to start to think about team goals for the coming year. These goals can drive what you want to work on in the pre-season. For instance, perhaps your team would like to learn to use sensors (or a new sensor) this season. Perhaps your team did not do any outreach last season and would like to do something this season. Below, we provide some typical goals and activities in each of the three parts of FIRST LEGO League that teams can work on in the pre-season.
Robot
Rookie teams can start to learn to program and build with MINDSTORMS in the pre-season. This will help save a lot of time during the season as you will not have to work on the challenge at the same time. Experienced teams can use the preseason to develop some new programming skills. A good way to begin is to take a quick survey of what the team knows and does not know. Work with the kids to create a list of must-do programming lessons.
To improve your building skills, try building some challenging Technic sets together and learn some of the unusual building techniques used in the sets. Purchase some Technic books and have your students build some of those models to gain experience. You can even build some FIRST LEGO League robots and test them out in the summer before the challenge is released.
Project
By November of the previous challenge season, FIRST LEGO League has already released a teaser and a brief description of the challenge theme. Since you know what the general topic will be (water, trash, space, etc.), the team can brainstorm about some general problems that might fit the topic. They can also do some preliminary research on those topics. You might even go on some fieldtrips, which are much easier to schedule in the summer while the students are not in school. You may not want to identity a final project topic and create a solution before the challenge is released since the challenge may include constraints on project topics or approach. For example, the Nature's Fury season specified which natural disasters may be studied and the Senior Solution season required working with a senior citizen as part of the project solution. The goal for the preseason should be to build up some general knowledge about the theme and get an idea of what types of problems might exist. This way, when the challenge is released on August 1st, your team is ready to go.
Core Values
Help the kids get to know one another. Do a fun activity together or go on an outing together. Help them start to see each other's strengths and weaknesses. Introduce the FIRST Core Values early and set up some team rules as well for how the students should interact with each other.
The preseason is also a great time to start setting up some outreach events in the community. For example, your team might be able to create a workshop on robotics, FIRST LEGO League or STEM and have it included in a library's summer program.