Team Facebook Pages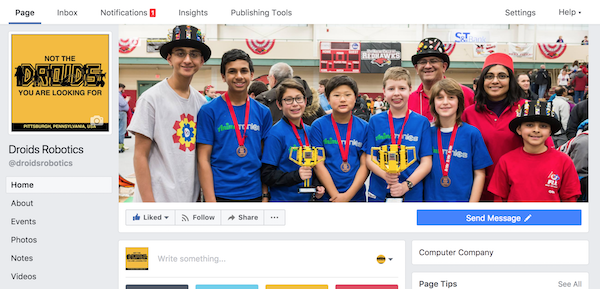 The following discussion is quoted from the Facebook Group FLL: Share & Learn.
For the FLL teams that have a team Facebook page, do you make the kids run it, the coaches run it or a mix of both?
Response by Gloria Gibson
I have a parent as the admin–we/team and myself send her info we want on it…..they take pictures at events etc. and post our community outreach.
Response by Funnoying Technicians
For our team the parent mentors run it. The kids verbalize and send what the want on the FB page so they have lots of input on the content. Parents also tag the page in photos.
Response by Brittany Robbins
I'm the coach and also manage the FB page. We only have maybe 30 followers and they are people in our circle (family, friends, community members).
Response by Eng Rana Baddar
I prefer the coach to have the access on the page. If a parent or a teacher can help that would be great
Response by Karen Koomen-Bollerman
I don't know about other countries, but in Holland you need to be 15 to have an account. So we're running it as a coach, but the teammembers do write meeting reports we post on FB.
Response by Seshan Brothers
Mostly the kids for us (especially when someone on the team is above 13). But an adult monitor for keeping track/deleting anything inappropriate/informing us there is someone to respond to when we are in school. When the whole team is under age, it makes sense to have an adult run it, but have the team post together (with the adult in the room) during their meeting time.
Response by Cherie Lewis Turner
We use Slack for our team. FYI we are a very young team. We have different channels to post and update everyone. Anyone can post as well. I tell them to check a couple of times a week for updates from me. Some of the channels I use are project, programming, core values, engineering notebook, robot design and strategy. Then they can keep notes or download their programs there so we do not lose our work. I hope that helps
Response by Carrie Koepke
One of my coach roles is managing the page, but with heavy input from the team (I handle posting, but my son inputs content and pics photos/interactions/etc.). During the off season I fade out even further, but still supervise.
Response by Aaron Tremblay
For our team the coach and one parent mentor run the page. We of course let the kids present information and respond to posts with us being involved.
Response by Rod Collins
As head coach I run a private FB group to coordinate all us homeschooling parents for two teams. I update meeting minutes for those who miss club meetings. A public FB page is still being talked about for our young rookie teams but I suspect I'll be doing all the admin.
Response by Shena Leonard
We have one kid who is old enough and has a Facebook account, so he does most of the posting. The other kids who don't have accounts (and I don't want to encourage any families to have their kids start social media accounts if they don't have one already…) give stuff to him to post. For example, we have kids who type up Teamwork Tuesday stuff, or create art, and that stuff gets posted by a different kid. I am also an admin on the page so I can keep an eye on what's going on, and delete any bad comments or something if they show up. Every now and then I will also post something for a team member if our main "poster" isn't available to do it for them.
Response by Ryan Evans
Is there a requirement to run a Facebook page? I have all my kids connected on Edmodo. They're sharing files and ideas amongst themselves on there… What is the need for a FB page for your FLL team?
Response by Mic Lowne to Ryan Evans
Mic Lowne I think it's a bit of a mix, some do it for core values to share what they're doing, sharing/promoting with sponsors, meeting other teams. I've never had a need with my teams as we use google groups, google classroom or Edmodo for communicating within the team. I think it's also different for us with school based teams. FLL in Australia is dominated by school teams (yes there are a lot of non schools but the majority). For us we often turn students over annually or bi-annually so a long standing team page isn't as important.
Response by Asha Seshan to Ryan Evans
No. Not required at all. My team's was started as a way to connect with teams they were going to meet at an international event ahead of time.
Response by Brian Boehler
All of our FLL team pages are ran by either coaches or parents. Most of the students are not yet 13 yrs old (required by facebook to have an account) Once students move into FTC we have a group discussion about social media and appropriate use and content (we also invite parents that wish to join the talk) those FTC students then run thier own team accounts with oversight from coaches, mentors and parents.
Response by Tammy Jochman
We had the team update during meeting times or coaches kids during the week under adult supervision. Other posts were made by the coaches. To share documents and discussion our current team is using a shared google docs folder which seems to work really well. https://www.facebook.com/St-Peter-Lego-League-team…/
Response by Jean Findley-Williams
For the Bayou Builders, the team controls the content and the coaches handle the posts.
Response by Teresa Smalley
Agree with all, I monitor our page and did not authoize any one not on the team to post on it. I was real strict when kids were not in HS. I go through the Feed and approve what is posted. I'm loosening up now that the team is older. We've had lots of talks about safety.