What is in a Logo?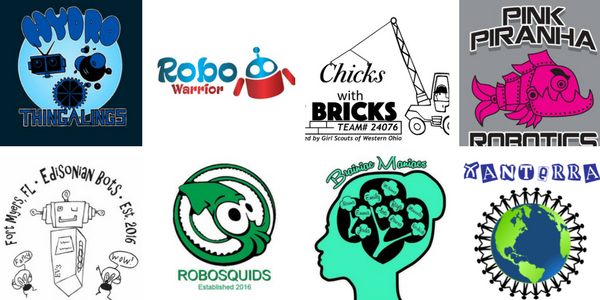 Team names and logos represent who you are. They are fun to come up with and a great way of representing the team. They are inspired by where you live, what you enjoy, schools and organizations you are affiliated with, and more. Read below to learn about some FIRST-related logos and their origins.
EV3Lessons Logo: More than what it seems
EV3Lessons was founded by FIRST team, Not the Droids You Are Looking For. We came up with the EV3Lessons logo early in the 2014 World Class Season. The EV3 was made to look like to faces looking at each other and learning from each other to match our tag line. One face is green and the other is purple to represent us (Sanjay and Arvind) as it is our favorite colors. We made the "L" in Lessons into a road because learning is journey/path you take.

FIRST Logo
Does the FIRST logo mean anything? Yes, it does. This image linked was shared with us by Alex Stout, mentor to the MARS FRC team in West Virginia. The FIRST Logo is inspired by the Olympics logo as well as Archimedes' study of the cone, sphere and cylinder. Thus, it combines both elements of sports and mathematics.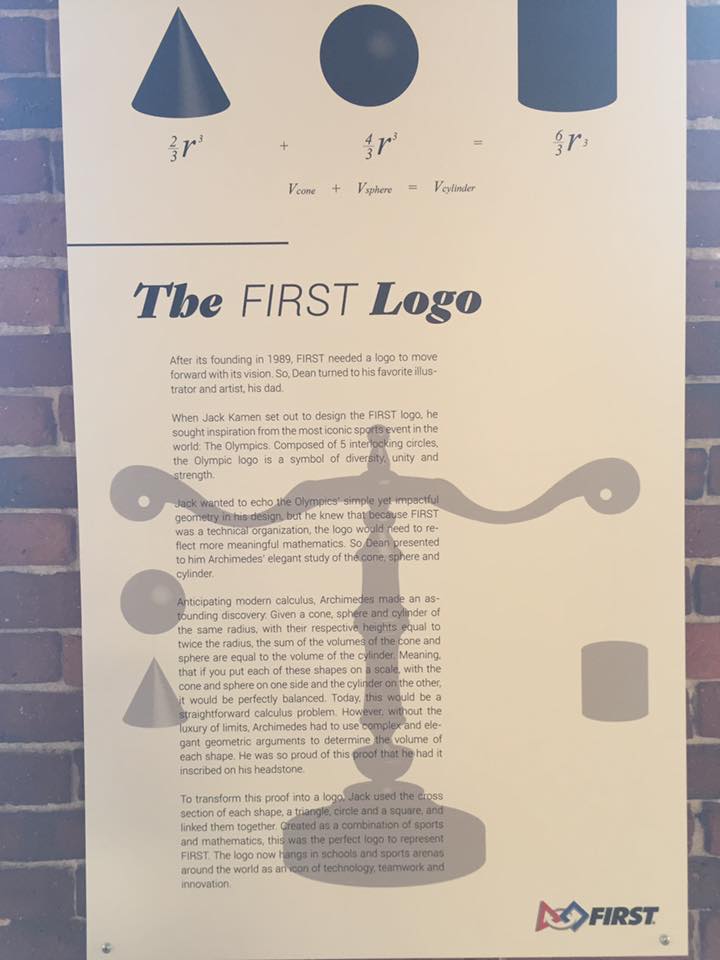 Xanterra FLL: Making you think
Our team Xanterra FLL has roots in a local elementary where the mascot is a raccoon. When they competed there they called themselves Procyon Lotor, which is the scientific name for a raccoon. They enjoyed the way the name was a conversation starter & when they left elementary school & became a community team, they wanted a name that people had to think about. After looking up many words & roots in many languages, they landed on Xanterra. Xan comes from Greek, Alexander, meaning protector. Terra is Latin, meaning Earth. Their logo shows a string of children, hand in hand, around the Earth, protecting it. The team wears collared shirts over their team t-shirts & have capes to represent themselves as undercover superheroes, protecting the earth with their smarts & innovative solutions.
Robosquids: Inspired by a passion
Our team is Robosquids. When we started the team two years ago, we asked the boys what they wanted to name it. My son came up with Robosquids since he is obsessed with fishing and squids. His friend and team mate liked it so it stuck.
Thingaling: Inspired by Girl Scouts
We are a brand new team of 6 Girl Scouts ages 11-14, who came together (from 4 different troops plus 2 girls new to GS altogether!) to form a team! No previous robotics experience including the coach! The girls came up with suggestions for a team name, voted, then one of the girls designed the logo!
Pink Piranhas: Inspired by an FRC team
Big sister was on an FRC team called The Pink Team … she mentored our brand new FLL team so I asked the kids to come up with a name that was "Pink __". We live in FL and there was a flock of giant pelicans that had taken up residence in the pond next to the school during a cold snap and the kids were fascinated with them. So my son and his team picked Pink Pelicans. Little sister started a FLL team the next year they picked Pink Piranhas and several members have younger siblings that started a FLL Jr team and they are Pink Pythons. 😊💕 Big sis is an artist so she designed the logo/mascots.
Brainiacs Maniacs: Inspired by Girl Scouts
The name was voted on by the original team 5 years ago amongst various contenders. They decided to keep the name to build the "brand" and it has become well known locally, along with their use of various pink accessories which change very year (e.g. bows, hats, capes, suspenders, etc.). The logo was designed by one of the original team members and incorporates the Girl Scout trefoil as they are a Girl Scout sponsored team and also represent the brain growing due to FIRST. This year they modified to include the first name of each team member, which was a great addition.
Edisonian Bots: Inspired by a famous person
Team 24731, Edisonian Bots. We are a team of homeschoolers, inspired by Thomas Edison who was also homeschooled. We also live in Fort Myers, FL where Edison spent many winters. Our logo incorporates the EV3 (as the robot's body) and features several lightbulbs as a nod to Edison. The logo was designed by two of our teammates last season. 💡
Robowarrior: Inspired by a local sports team
First meeting of the team, kids decided upon the name Robo Warriors, the main reason at that time: It was basketball season and home team Golden State Warriors was doing pretty good. All of them were fans and following the team. The name grew on them and they wanted an identity beyond GSW, they decided upon a warrior robot. Kids designed a basic design and then we got it designed from a professional on fiverr.
Chicks with Bricks: Inspired by the Girl Scouts
Our team is an all girl team of Girl Scouts. The girls all brainstormed ideas for team names and voted to select the winner "Chicks with Bricks"! Once we had a name, we had the kids all sketch up their ideas for logos and then the girls voted on the winner. Their team identity is all about GIRL POWER!
H.O.T. Squad: Inspired by superheros
We are the H.O.T. Squad (heroes of tomorrow). This has been our team name for two years. Kids picked it and designed the logo. They are good role models and do a lot of outreach as individuals and as a team.
NERDS: Inspired by a school name
We are a school based team (well, collection of teams). Our school is named North, so the kids our first year came up with North Nerds. Then we decided to make NERDS an acronym, so we became the "North Engineering Robotics Design Squad" . We field 3 teams each year, and the kids shift around (again, school team) so each year the teams come up with their own spin on NERDS. Some of my favorites have been "NERDS who say Ni!", "NERDS in Shining Armor", "Despicable NERDS" and "NERDS Sharknado". Some teams choose to go with something project related- so this year we had the "Salty NERDS". Our logo was designed our first year and is our robotics room mascot: a little robot with a wrench in hand and a star-cut out on its belly (our school "mascot" is Stars).
21st Century Space Guys: Inspired by an interest in space
We are a neighbourhood team in Kentville, Nova Scotia, Canada. Our team name started with a discussion of being the 1980s something space guys, but then it was pointed out that no one in the room had been born in the 80s. So… they shifted to the 21st Century Space Guys. At the time the team was all male, but even last year when a young lady joined our team she didn't mind. Our robot's name is Hadfield who is named after Col. Chris Hadfield - a real 21st Century Space Guy for Canada. Our logo was done by one of our team members. It is a take off of the Lego classic space guys logo. He redrew it a bit so it wasn't copying it. We have had pins made and we have a banner too. Our t-shirts add to our team identity in that each member is a colour of a classic space minifigure. I, as the coach, get to wear green.