Learning One Step Ahead of Your Students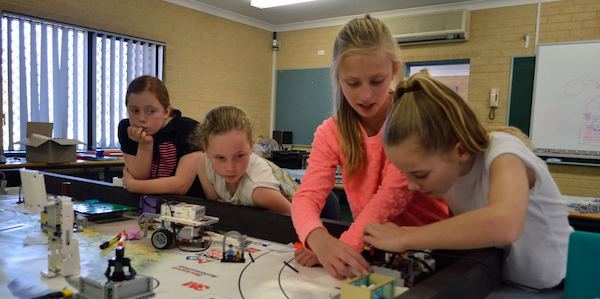 In late 2015, Iona Primary School won a FIRST LEGO League Robotics grant from FIRST Australia, in partnership with Google. This grant has helped us to set up a small LEGO Robotics program for 2016, which will enable 18 upper primary girls to compete in the 2016 "Animal Allies" FIRST LEGO League competition. I am a first year coach to The Robotic Rebels and The Motherboards.
Starting Out
This year, with the benefit of a FIRST Australia grant, and the support of my school leadership team, I found myself teaching an extracurricular LEGO robotics program, preparing two teams for the FIRST LEGO League (FLL) competition. I'd never worked with these sophisticated robotics kits before, and I wasn't sure how the program would run in our school, let alone how I'd teach it. After many hours of Internet research, watching YouTube videos, and adapting teaching materials from EV3Lessons.com & Carnegie Mellon University, I set up my Google Classroom groups, and set to work.
Implementing Robotics in a School
For me, good teaching is Image_27_0about learning. It is about taking risks, experimenting with new ideas, and collaborating with colleagues to improve the learning experiences and outcomes of our students. As an educator, taking risks and exploring new ideas is not an easy or straightforward process; and without leadership support, you are likely to fail. It is one thing to dream up an innovative idea, it is quite another to implement it within your school community.
"Our Coaches and Mentors don't have all the answers. We learn together."
Admitting that "I don't know, but let's try it and find out" is not an easy thing for a teacher to say to their students. Yet, this quickly proved to be a common refrain in my robotics class!
Learning isn't linear, and sometimes it can be messy
Learning Can be Messy
Learning isn't linear, and sometimes it can be messy. I based my teaching and learning approach on the idea that we could explore robotics concepts and skills through guided problem solving and hands-on experimentation. If it doesn't work, let's keep experimenting, and work out why. I was teaching out of my comfort zone, trying to stay one step ahead of my students. I could hardly pretend to be the font of all knowledge – I was often building and testing programs and mechanisms an hour before my students arrived for class.
Taking Risks
Learning how to teach robot programming and engineering with LEGO EV3 MINDSTORMS has been a steep, yet extremely rewarding learning curve. My teaching programs are covered with notes about what worked, and what I'll need to do differently next year. Yet, by taking risks, experimenting with new ideas, and facing my fears – I am not only growing as an educator, but I am making a difference in my students' learning.
At the end of the day, that's what teaching is all about.'