Competition Day Tips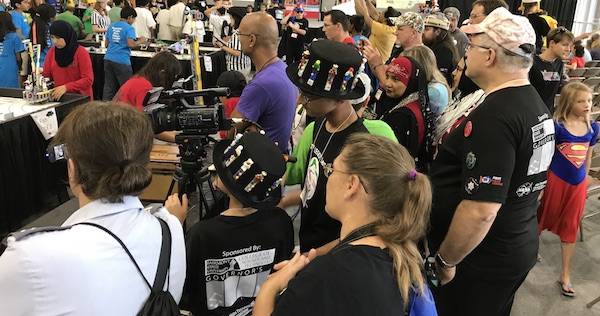 The following discussion is quoted from the Facebook Group FLL: Share & Learn .
What are some tips for competition day?
Robot Game:
Know the rules. Print and bring a copy. It is the team's job to know the missions and rules. Only the teams may talk to the judges so it is important for the students to know the rules. (Jason Baber)
Don't touch the mission models on the table. Only a Referee may do that. If you think some model is not correctly set up, ask the Ref to adjust it for you. (Asha Seshan)
Coach's Role:
Don't keep yelling instructions from the sidelines. The kids have got this. They have been working for months for this moment. They need to make their own decisions (good or bad) during the robot game. On contest day, you should have very little to do other than get them to the right room/table on time. (Asha Seshan)
Take a deep breath, relax and HAVE FUN!!! All of the hard work your kids have done so far are for this day. Be sure to dance lots (drink a lot of water) and high five everyone. There is no better competition than a FIRST competition (remind me of this advice in a couple months when its our turn) (Sarah Cerra)
Make sure you have the schedule, tell team to be together all the time, assign pit duties so that atleast one of them is in pit at all time to explain their project to others. Most important, everyone enjoy every moment of it… (Swati Gupta)
Trying to remember it's a celebration of all that your has team has accomplished. At our practice tournament this past weekend the director was so awesome to say over and over again "this is a no anxiety zone". :) Good to keep in mind if/when something goes wrong. There has always been something that didn't go according to plan in our tournaments. It can be a great day nonetheless. We find it particularly helpful, too, to locate the judging rooms early in the morning and walk the 'course' of the day for those kids who find it helpful to know what the order is going to be. (Marina Wallis)
Coaches remember to have fun with the kids. The season may seem long but it's over in a flash. (Teresa Smalley)
Refer to Coach's Role During the Robot Game
Know Your Team's Schedule:
Make sure you are communicating with the Tournament Director early in the week and passing on all pertinent information (parking, food, times, other kids spectating, etc.) about the event to parents. You would be surprised how often the little details don't get communicated properly. (Jason Baber)
Most important (at least to me and the parents of the kids on my team) are times and the detailed schedule. Get the schedule out as early as possible. (Ruth Ann Francis)
Last year, I took a photo of our schedule and kept the photo as a wallpaper on my phone till the end. (Anand K. Prahbu)
This is one plus to all the kids having phones, they also took pictures of the schedule & kept us on track. I was only for show & charade prompts when needed. (Celina McGinnis)
Volunteers are Always Needed:
Ask a parent to volunteer! This makes a huge difference to the tournament directors. (Celina McGinnis)
Every event I have gone to has been in need of helping hands. Anything from showing kids which way to go to keeping track of time for judges. You don't need to be an expert in FLL to help out in majority of the roles. (Asha Seshan)
Keeping Organized:
Create nametags for your team which includes the team name, number and student's first name. We put ours in plastic name bagde holders worn on lanyards. I print up a copy of the schedule (judged sessions, robot game, etc including location) organized by time and slip that in the back of the nametag. The nametag helps the tournament officials, judges and refs know who they're interacting with. The schedule means everyone has an easy reference for when we have to be where and they don't have to ask me…now if only I could get everyone to wear a watch on tournament day…. (Ruth Ann Francis)
Passing the Time/Taking a Break:
Ban electronics (phones etc) for your team…. Kids should be engaged the entire day: learning about other teams projects; sharing their project; practicing at the practice table; watching other teams robot matches. Also, be sure to have one of your teams robot expert & a project expert by your pit station all day long- rotate kids in and out of these roles. (Coaches should stay away from the pit table and let the kids share on their own). (Tammy Jochman)
I 100% agree on the electronics ban. Instead I tell the kids to bring a non-electronic game to play together if they have to pass the time - a deck of cards/UNO have worked well. (Asha Seshan)
Our team also brought UNO cards, and also a cheap ball (the soft plastic ones you see in the tall bins at Walmart or Target). They'd get in a circle and volley the ball to each other soccer or volleyball style. It was a fun way to release any nervous energy, and because they were out in the open, it was easy for other teams to come over and join. I always recommend having a friendly adult nearby to supervise (or better yet to play with them!), as this keeps away the unfriendly adults who will want to come over and tell the kids to stop. (Haruna Cofer)
Print a small "passport" of the participating teams. Have your kids note one neat thing they learn at each pit on the passport.
If your event is a full day, there might be an opportunity to leave campus for a brief break or lunch. Know your team well enough to see if they need that moment to reboot or if they will benefit from staying in mode. (Carrie Koepke)
I always benefit from a break in the middle of the day, especially if we can get away from the campus for even just a short time. We're fortunate to be in North Texas, so the weather is usually reasonable and we can at least go outside if we need a bit of time away from the noise and crowds. Otherwise, I've been known to sneak into an unused hallway (or one where the judging rooms are) for a few minute breather. (That one won't work as well for the kids, but as long as you look like a coach and appear to know where you're going, no one has seemed to mind.) (Ruth Ann Francis)
Take time to meet other teams. It's what FLL is all about. Make some new friends. (Seshan Brothers)
Rember to Eat & Drink:
Definitely drink water. Drink lots of water….and probably some with caffeine in it too (don't forget to recafefinate in the late morning/early afternoon!). It's a long day. (Ruth Ann Francis)
Kids on the team often forget to drink on competition day.
Judging Sessions:
Judges are there to celebrate what you have found, learned and worked on. They are not there to eat you! So don't be afraid tell them, show them, surprise them! And have FUN (Angela Wellink)
Our teams also practice how to enter the juding rooms (i.e., greeting the judge, introducing the team, and giving handouts before beginning their presentation ) (Javier Duran)
Remember four copies of your team profile page with a picture of your team on it. Suggest the picture on the page has the kids in the same shirt as they are wearing that day. Helps the judges identify and remember your kids. (Denyse Carroll)
Refer to Preparing for Judging Presentations
Equipment Needs:
Take care in transporting your robot at events. Dropping robots/boxes is more common than you might think. Aisles are crowded. (Seshan BRothers)
Before last season, we had at least one drop at each tournament we've been to. Then we got a great cart which doubles as our stand to hold attachments during Robot Game runs. It's made things go a lot smoother for us on competition day (even if we've had to carry it up and down stairs at times). BUT check with your tournament director to make sure they will allow carts. Sometimes things get really crowded and make it hard to maneuver. (Ruth Ann Francis)
Show boxes are great for transporting robot and parts. (Denyse Carroll)
Bring your robot. No Kidding. This is my 9th year as a tournament director and at least five times someone thought someone else was bringing the robot (and gear). ❤️😂 (Denyse Caroll)
Bring a gallon ziplock bag or brown lunch bag for each kid to keep all their swag in. Bring a plastic tub with all your stuff in it. It doubles as a place to put coats, lunches ect under your pit table. (Denyse Carroll)
Refer to Dare to Prepare