Introduction of Core Values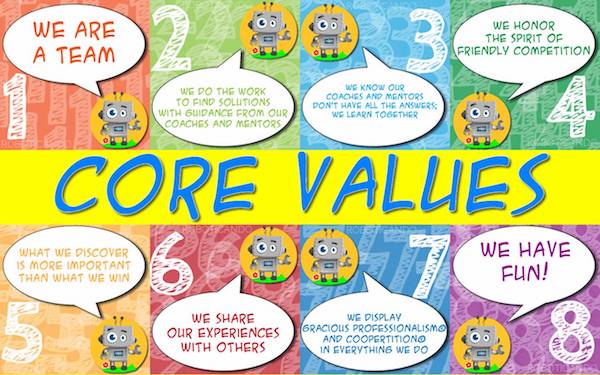 I have been a coach for a FIRST LEGO League Team since 2006. My primary job is that of an Afterschool Program Director—schools want more "academics" in our programs and I feel that kids needs to have fun and play more. FIRST Robotics allows me to make everyone happy! What do I think is the most important aspect of FIRST? The character building—the life long lessons team members take with them and these all come from an understanding and a belief that as a team and individually we always embrace the core values.
What are the Core Values?
If you do google search you will find that the FIRST LEGO League Core Values are the cornerstones of the program. They are among the fundamental elements that distinguish FIRST from other programs of its kind. By embracing the Core Values, participants learn that friendly competition and mutual gain are not separate goals, and that helping one another is the foundation of teamwork.
Why?
As a coach the "rewards" I earn are those that come from former team members when they come back to me and share their success stories and how they used what they learned from FIRST—integrating the core values into their everyday lives.
If you introduce the Core Values and make the team members understand that everything else they do is built around them, they will become the foundation on which the team builds on naturally—it will become a natural part of the "team".
How?
The very first information my team receives is their copy of the Core Values. We read them together at our team meeting.
Each team member writes a core value on an index card.
Index cards are placed face down on table, mixed and then each team member takes a turn picking one card.
Team members must make a poster (any format they like) that has the Core Value (CV) in large print on it and then pictures, quotes, anything that they want to explain the CV.
At the beginning of each practice team members present their poster and we have a team discussion – initially this takes about 20 mins. – with 7 core values, this would happen at
Hang the poster where team members can see then – when they have time, they can read
Once all posters are hanging, we dedicate at least 5 minutes each practice to "sticking" with the CV—team members share something they that either they observed or that they did relating to a CV—they quickly write the experience on a sticky note and place it on the CV poster it describes.
Have FUN doing it, make these a part of every practice
Have fun
If you introduce the Core Values and make the team members understand that everything else they do is built around them, they will become the foundation on which the team builds on naturally — it will become a natural part of the "team"