Engaging Girls in FIRST LEGO League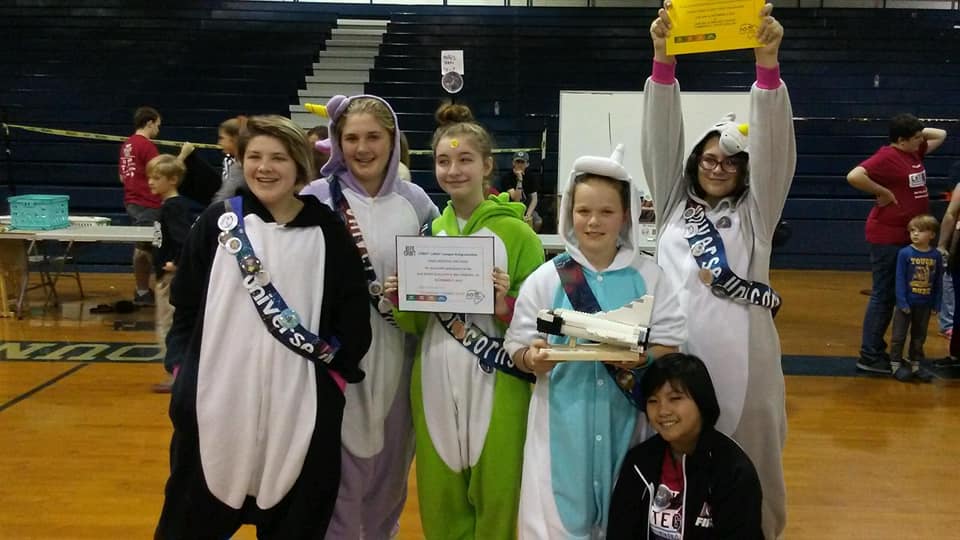 How do you engage girls on a FIRST LEGO League team? Is it better to have an all-girl team?
The following article incorporates ideas posted on the Facebook Group FLL: Share & Learn .
Barbie Nelson Bolden: Mixed! The world is not segregated! The key is only having 4-8 students on a team.
Sudie Ammerman: I think I am in a similar role as you. I don't mentor, I coordinate. I went through this a few years ago and truly believe mixed is best. But to be successful everyone has to try all things and everyone has to consciously remove bias.
Matthew Heffernan: We have always tried to preach that they focus on the part of robotics that interests them the most. Girls almost always went to project and boys to the robot. Then, about 5 years ago we had our first girl on the robot. It seemed to break the wall. Every years since our top programmer has been a girl. This year only one boy was on robot and only two girls on project (out of ten). It was hard to get them to break the stereotype, but once they did it made it easier for the following years to work on the side they truly liked the most. Which has given us great results.
Sara Hart Chisholm: We have an all girl team (community based) specifically to ensure that the girls take on and fully embrace the more techy parts. We have been very happy with the result and how it has developed the girls confidence on so many levels. We think it's worth it, although I don't think it would have been allowed if we were a school based team.
Christina Olivarez Morales: This year, I was in the same boat. I had so many 5th grade girls that I decided to form an all girls 5th grade team. I have always mixed them up, but we will see. I hope they move on to Middle School together. We have 4 teams. One of 5th grade girls. Another with a mixture of 4th and 5th grade girls(1 boy), another all 4th grade boys, and another 5th grade boys. First time being this separated. We will see what the season brings. At this age, I want them to have fun and be with friends, which is what I was thinking.
Rackley Love: First, kudos to you for noticing and attempting to address this. My experience is that the coaching and kids make a difference when it comes to equity on teams. My oldest daughter has experienced both coed and single sex teams. If the coach and parents are committed to addressing any sign of gender bias immediately when issues arise, because they will, then coed situations can be valuable for all involved. My daughter had a terrible experience in FRC with gender discrimination this past year, and the situation went unaddressed until it got out of control. This type of experience can really have lasting consequences. Ensuring that there is equity for all team members is a very important responsibility for coaches. If you have the capacity to address this by forming single sex teams, then I'm all for it.
Michael Risch: I think this is a good and important question. I agree with the votes for mixed, because it's a) important to encourage the girls to work on the robot amongst the boys, and b) important to show the boys that girls work on the robot, too. This will be important for future paths. That said, some kids really WANT to do the project, and should go with their passion. Some ideas: 1. Have unbalanced teams: 5 girls, 3 boys, so the girls dominate but it's mixed. That's our team and it works quite well, first in FLL and now in FTC. 2. Have sub groups (that the kids choose) and team leaders (that you choose or the kids vote on) - if you make girls in charge of some of the robot subgroups, that helps a lot with confidence.
Joan Boyle: I have tried all combinations over the last 7 years. One year I did one all girl team of 6 and the other 5 teams of boys as they did self selection. I did not like it as it was too buddy buddy for the bits and the fifth graders stuck together and lost focus. The last two years I selected based on observations of their character and expertise on all parts of FLL. Plus a questionnaire completed by students and they were fantastic with core values across the 8 teams of 5 going well, which is the most important part for me. I also had 21 girls and 19 boys!! Yeah! I did not like 5 in a team so this year I am 6 mixed teams of 6 but we are lucky to have 2 robots and computers per team so they get lots of hands on. The project part is coordinated by Google Docs and shared/typed at home as they divide it up then I pull groups at our meetings to check in. I coordinate and have super middle/high school students who were former team members with me as mentors. Love robotics!
Cindy Duran: We have always done mixed teams in elementary, with no real issues, though the split has trended toward boys wanting to build and girls wanting to program, there was still some substantial mixing. Then we had girls come back to us, once they were in middle school, and had spent a year essentially shut out of the robot game, build and programming both, and ask if they could form an all-girl's team and please use one of the robots. That was a bit of an eye-opener!
Layne Kirk: I run 5-6 teams each year and, unfortunately, I don't have enough girls to form an all-girl team, generally. (Sometimes I do have enough by way of numbers, but for me grouping by age and maturity is more important, so I try not to have 4th and 6th graders together if I can help it). So, mixed teams it is. And I tell you what - our girls seem to have no problem taking charge of the robot. Yes, they love project presentation, too, but even this year the 2 girls on my team of 7 have had the most command of the robot runs. We don't say that out loud though. We have the same expectations of them all from the start, and they tend to meet them!
Tiffany Buckingham Barney: I've mentored an all boy team one year and coached an all girl team now. I agree. The boys were Lego building strong and the girls are project strong. Both significantly so. They seemed equally capable in the programming department. I like having all of one or the other because it pushed the boys to figure out the project and pushed the girls to figure out the building. It's not like the boys couldn't do the project and the girls couldn't do the building. I wonder if they might have individually thought so on a mixed team, at least the girls I have now might have thought so.
Shauna Beasley Shaw: There are merits and demerits for both and there is never a one size fits all solution where individual kids are concerned. Since you have 8 teams, have you considered having some homogeneous and some heterogeneous groups? Let the kids be a stakeholder in the discussion by telling you their comfort zone and confidence level for both types of groups in their application process. My daughter competed on an all girls team very successfully for 3 years. I have coached both over the past 14 years. It's been my experience that every kid has something to bring to the table and every kid is an individual as far as which situation works best for them. Large/small team size, single/mixed gender, age separations, rookie/experience, etc… there are all kids of ways to group. The best scenario is to try and make the best comfort zone and confidence level for each individual child. It's also been my experience that the more diverse the thinking styles in the group, the more successful the result. The main goal I try to set up is to have many points of view and ability levels present to support discussion and collaboration because that is how the best ideas evolve to their highest potential.
Another grouping strategy I used this past season at a school with two teams was to have the teams work together for the first half of the season on building bots and mission solving, research and team work. Their research was two different facets of the same problem so we ended up creating the official team rosters later in the season based upon the interest of the individual kid in the two projects. It was my first year working with this school and the kids had very exclusionary ideas on who was going to be on which team and so my answer was this strategy because it was very much apparent that core values needed to be addressed first before we could even begin to field teams.
Kim Kimmey: I think it depends on how involved you can be and how 'trained' your coaches are. Kids and adults have bias, ingrained about females in engineering. Even if a girl wants the role or would like tontry it, they often won't and will conform to the preconceptions. It is important that coaches can help break that cycle if you are going to give the girls a fair opportunity.